The Ashtami date of the Krishna Paksha of every month is celebrated as Kalashtami according to the Hindu calendar. In this year, Kalashtami (2021) is falling on Thursday, February 04, in the Magh month of 2021. On the day of Kalashtami, there is a law to worship Lord Kalabhairava, the form of Lord Shiva's form of God.
According to experts, Kalashtami (Kalashtami) worship is performed to worship Kaal Bhairav, the incarnation of Lord Shiva. On this day, devotees keep fasting and recite the story of Bhole Baba and chant hymns. It is said that people who worship on this day must listen to the story of Bhairav ​​Baba. Doing so also provides relief to those struggling with financial constraints with the negative forces around you.
At the same time, due to this date (Kalashtami) being dedicated to Lord Bhairav, it is also called Bhairavashtami. On this day, devotees worship Lord Kalabhairava and also observe a fast. Lord Kalabhairava is worshiped at night according to religious belief. This date is considered to be the best to get the blessings of Lord Bhairav.
At the same time, according to religious belief, Lord Shiva took his form of raud to destroy the sinners on this day. Two forms of Lord Shiva are said to be Batuk Bhairava and Kaal Bhairava. While Batuk Bhairava is benign, Kaal Bhairava is a form of raudra. The Puja is performed on the night of monthly Kalashtami. On this day, worship of Kaal Bhairav ​​is done in 16 ways. This fast is considered complete only after offering water to the moon at night.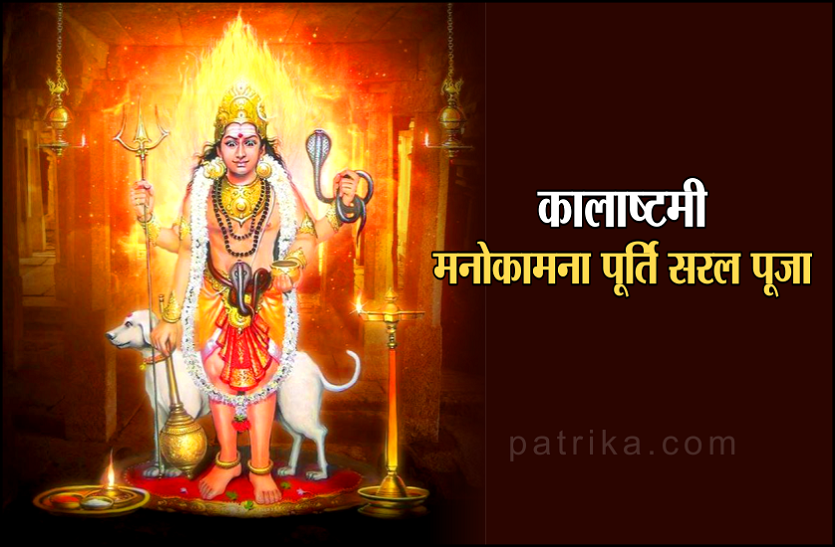 Kalashtami Kalashtami Puja: See auspicious results
: Worshiping Bhairav ​​Baba on the auspicious day of Kalashtami gives auspicious results. This day is the worship of Bhairav ​​Baba, one should recite Shri Bhairav ​​Chalisa on this day. By worshiping Bhairav ​​Baba, the person stays away from diseases.
: On the auspicious day of Kalashtami, the dog should be fed. By doing this, Bhairav ​​Baba is pleased and fulfills all desires. Bhairav ​​Baba's vehicle is a dog, so feeding the dog on this day has special benefits.
: According to religious beliefs, fasting on this day brings blessings of Bhairav ​​Baba. If possible, fasting should also be observed on this day. Fasting on this day relieves all suffering.
Auspicious time for Kalashtami Shubh Muhurat 2021: Magh month Krishna Ashtami date 04 February 2021 Thursday
Ashtami Tithi starts – 04 February 2021 days Thursday night from 12 to 07 minutes
Ashtami date ends – 05 February 2021 days Friday night till 10 07 minutes
Kalashtami puja Vidhi Puja Vidhi – To get the grace of Lord Bhairav ​​…
The Narada Purana states that on Kalashtami (Kalashtami) every wish is fulfilled by removing all the sufferings of the life of the worshiper of Kalabhairava and Mother Durga. If on this night, duly worship Goddess Mahakali and chant mantras should be done at midnight. Before worshiping one should read or listen to the story of Goddess Parvati and Lord Shiva. On this day, fasting should be made fruitful and the dog riding Kalabhairava is said to be the dog, so the dog must eat food on this day.
Chanting this Bhairav ​​mantra should be done 108 in the morning on the day of Kalashtami to wish for your wish fulfillment.
MUST READ : Mystical place – where nine goddesses are guarding Ashtabhairava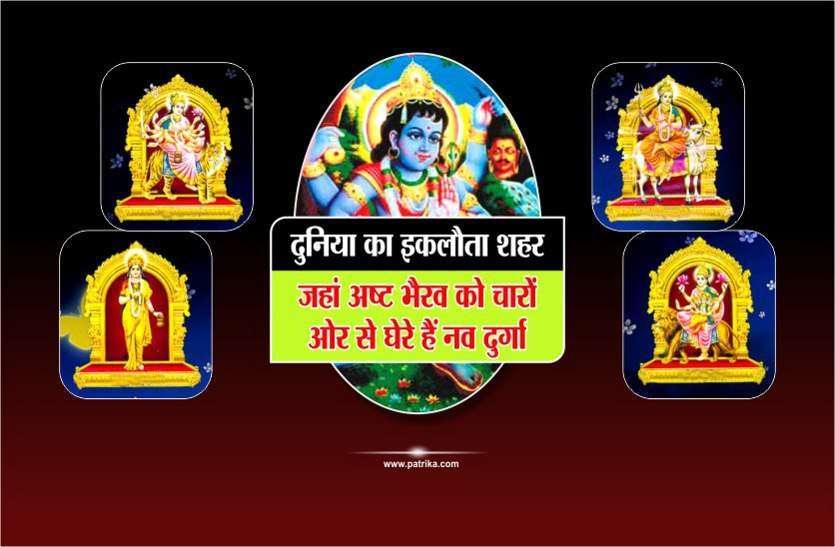 It is believed that worshiping Lord Kalabhairava (Kal Bherav) fulfills all desires. On this day, along with fasting and worshiping, one should recite Bhairav ​​Chalisa. It is believed that Kalabhairava gets God's grace from this.
Kalashtami Importance
On the day of Kalashtami, a devotee who worships and fasts to Lord Kalabhairava (Kal Bherav) with full devotion and rule is attained from all forms of fear, distress and enemy obstruction. The common man should worship the Batuk form of Lord Kalabhairava (Kal Bherav) because this form of him is benign. The nature of Kalabhairava God is extremely cruel but for the devotees he is very kind and welfare.
Do this work on Kalashtami day: kalashtami do this
1. Worship Lord Shiva on Kalashtami, it blesses Lord Bhairav.
2. On the day of Kalashtami, offer vermilion, mustard oil, coconut, gram, chironji, pue and jalebi to the temple of Bhairav ​​Devta, you will get the blessings of God.
3. To get the blessings of Kaal Bhairav ​​Ji, put a mustard oil lamp in front of the idol of Bhairav ​​Devta and recite Srikala Bhairavashtakam.
4. Visit Kal Bhairav ​​for 40 consecutive days from the day of Kalashtami. By doing this remedy, Lord Bhairav ​​will be happy and fulfill your wish.
5. To please Bhairava Devta, feed sweet bread to black dogs, along with Lord Bhairav, Shani Dev's grace will also be made.
Do not do this work even on the day of Kalashtami, forget it: kalashtami don't do this
1. Avoid lying on the day of Kaal Bhairav ​​Jayanti i.e. Kalashtami, you will suffer loss due to lying.
2. Generally one should worship Batuk Bhairav ​​as it is a gentle worship.
3. Never worship Kaal Bhairav ​​for the destruction of anyone.
4. Do not insult parents and gurus.
5. One should not worship Kaal Bhairav ​​without Lord Shiva and Mother Parvati.
6. Householders should not do vengeful worship of Lord Bhairav.
7. Do not kill the dog. If possible, feed the dog.
Kalabhairav ​​Mantra (Kal Bherav Mantra) –
… Om Atikrur Mahakaya Kalpant Dahanopam.
Bhairava Namastubhyam License Datumarasi.
– Shree Bhairav ​​Stuti …
Yam yam yam yaksha rupan dashadishivadanam bhumikampayamanam.
No. No. No. Sanharmurti Shubh Mukut Jatasekharam Chandrabimbam.
Tolerate long and long.
Pt. Pt. Papnasham Pranamat Continuous Bhairavan Kshetrapalam. 1.
The color of blood color cuttack
Ghhhhh Ghore Ghosh Ghh Ghh Ghhghra Ghhor Nadam.
Co. Co. Co. Kaal Roop Ghagghag Ghagitan Jwalitam Kamadehan.
To the right Divya Deen Pranamat Continuous Bhairavan Kshetrapalam. 2.
Llnl llmdantlnl llullitln long life.
Dhun dhun dhun dhoon varna sphuta deformed face masuran bhimarupam.
Rund rund rundmalam rudhramaya mukh tamranetram vastam.
No. No. No. Nudroopam Pranamat Sitaram Bhairavan Kshetrapalam. 3.
Vandh vandava vyavagam pralayam pratimam brahmarupam swaroopam.
Khan khan khan khadga hastam tribhuvananilayam bhaskaram bhimarupam
Cham cham chalayantan chachal chalit chalant chanta chakram
Manam Manam Mayakayam Pranmat Sattam Bhairav ​​Kshetrapalam..4.
Khanda khanda khandhaghedam asymmamritamayam kalandakhakaram.
Kshi Kshi Kshi Kshpraveg Dahdah Dahan Eye Eye Sandipyamanam.
Am Hoon Hoon Hankar words manifested in deep-rooted land.
Bam Bb Balleel Pranamat Sitaram Bhairavan Kshetrapalam. 5.
1- Aarti of Shri Bhairav ​​Baba …
Jai Bhairava Deva, Prabhu Jai Bhairava Deva.
Jai Kali and Gaura Devi Krit Seva.
Your sins are the savior of sorrow, Sindhu Tarak.
Pleasant Vapu holder of the devotees.
The vehicle was carved and the trident caught.
Glory indelible Your Jai Jai Horror.
You will not succeed without service.
Chaumukh Deepak Darshan Dukh Sagare Khonve.
Oil chatki dadhi mixed language
Please God, please do not delay.
Foot ghungroo bajat aru damru damkawat.
Batuknath becomes a child in public mind.
Aarti of Batuknath ji, any male village.
Say, Dharnidhar, the male, will get the desired fruit.
2- Aarti of Shri Bhairav ​​Ji …
Listen ji Bhairav ​​ladle, add and beg.
Kindness is needed for you, let me take care of you.
I touch your feet, listen to my application.
I am a retard of mati, please help me.
Glory be your lot, I can tell you a little bit.
Listen, Bhairav ​​Ladle …
Doing rides is a state in all four directions.
You are the king of all the ghosts and ghosts.
What is your weapon, what should I describe them?
Listen, Bhairav ​​Ladle …
You always dance in front of Mataji, always.
With the translation of the qualities of Ga Ga, you are always wooing them.
What should I do to praise you for being a Sankali?
Listen, Bhairav ​​Ladle …
A lot of glory is yours, Mehndipur surname.
The traveler of the coming world is the place of Bajrang.
Shree Phantom Sarkar, I will take the head steps.
Listen, Bhairav ​​Ladle …
Nishadin, your mother be happy with your game.
Keep blessing with your hands on your head.
After adding tax, I should pray at Arushish feet.
Listen ji Bhairav ​​dear, do add and beg.
kaal bhairav
kaal bhairav ​​ke upay
Kaal Bhairav ​​Puja
kal bherav mandir
Kalashtami
kalashtami mahatva
kalashtami puja
kalashtami puja date
kalashtami puja time
kalashtami puja vidhi
kalashtami vrat
Lord Shiv
Lord Shiva
puja path
Religion
spirituality
neck
Worship of Lord Shiva

[ad_1]
[ad_2]