The deeper the carving, the greater the Shivling …
Today this temple is an example of communal harmony …
Saraiya Tiwari, a village near Khajani town, 25 km from Gorakhpur, has a unique Shiva lingam of Mahadev called Jharkhandi Shiva. People believe that any devotee who comes to this court of Shiva and wishes with reverence, his wish is definitely fulfilled.
It is believed that this Shivalinga is several hundred years old and has emerged on its own here. This Shivalinga is equally revered for Muslims along with Hindus, as a Kalma (a sacred sentence of Islam) is inscribed on this Shivalinga.
According to people, Mahmud Ghaznavi tried to break it, but he could not succeed. It is said that he demolished this temple of Mahadev. After this, he tried to uproot the Shivalinga, so that he could remove the treasure hidden under it.
According to the people here, the depth to which Gajnavi carved it to remove the treasure hidden under it, the more the Shivling grew. It is said that during this period, several blows were also made to destroy the Shivalinga, on every attack there was a flow of blood.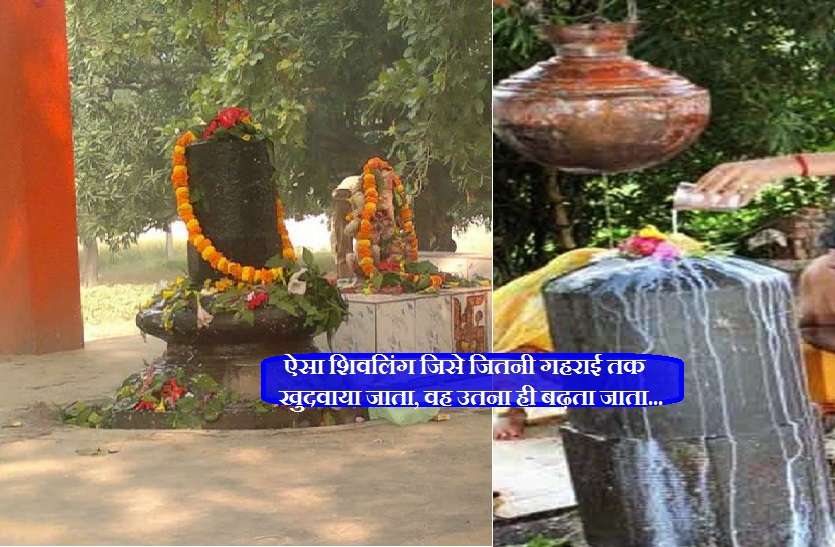 After this, only the Muslim religious leaders who came with Ghaznabi advised Mahmud Ghaznabi that he would not be able to do anything of this Shivalinga and it had the powers of God, so Ghaznavi understood his goodness in traveling from here. But on his way, he destroyed the temple, but the Shivlinga did not budge. When Ghaznavi was exhausted, he carved 'Lilahaillallalah Mohammadamdur Rasulullah' in Kamala Urdu on the Shivling, so that Hindus could not worship it.
Since then, the importance of this Shivling has increased more and every year in the month of Sawan, thousands of devotees are worshiped here.
Today this temple has become an example of communal harmony, as Hindus as well as Muslim brothers in Ramadan come here to pray to Allah.
It is believed that it is a Swayambhu Shivling. In such a situation, Lord Shiva definitely fulfills whatever devotees come to this court and pray with reverence.
According to the priest, city qazi and devotees, this temple has never been able to have a roof even after many attempts. The Shiva here lives under the open sky.
It is believed that a king suffering from leprosy was cured by touching the waters of Pokhara located next to this temple. Since then, people get a bath here on Tuesday and Sunday to get rid of their skin diseases and get rid of their skin diseases.
amazing
Gorakhpur
Hindi
Hindu
Increase Shivlinga
jharkhandi mandir
jharkhandi shiv temple
Jharkhandi Shiv Temple in gorakhpur
Jharkhandi Temple
Stay
khajani
Lord Shiv
lord shiv temple
Lord Shiva
muslim
news
sawan
shiv mandir
shiv temple
shivling
shivlinga
story
unique
UP
Yogi adityanath

[ad_1]
[ad_2]