: When is Vaikuntha Chaturdashi 2020 (Vaikuntha Chaturdashi 2020 Mein Kab Hai)
: Vaikuntha Chaturdashi 2020 day and time Vaikuntha Chaturdashi 2020 Date And Time
: Vaikuntha Chaturdashi's auspicious time (Vaikuntha Chaturdashi Shubh Muhurat)
: Importance of Vaikuntha Chaturdashi (Vaikuntha Chaturdashi Importance)
: Vaikuntha Chaturdashi worship method (Vaikuntha Chaturdashi Puja Vidhi)
: Story of Vaikuntha Chaturdashi (Vaikuntha Chaturdashi Story)
On the Chaturdashi date of Shukla Paksha of Kartik month, Vaikuntha / Baikuntha Chaturdashi Vaikuntha Chaturdashi or Baikunth Chaudas baikuntha Chaturdas. After Devuthani Ekadashi, when Lord Vishnu comes into the waking state. From then on he becomes absorbed in the worship of Lord Shiva. On this day, Lord Shiva is worshiped along with Lord Vishnu. This year Baikunth Chaturdashi is coming on 28 November 2020.
On this day Lord Shiva visits him to hand over the task of creation to Lord Vishnu. Hence this day is also known as Harihar Milan. This is the only day in the year when Basil is offered to Shiva and Bilvapatra is offered to Vishnu. It is religious belief that on this day the doors of Param Vishram Baikuntha of Lord Vishnu remain open to all beings, hence it is called Baikunth Chaudas. That is, if a creature dies on this day, it enters Baikunth directly.
According to the legend, Lord Vishnu once came to Kashi, the city of Mahadev, to see Shiva. After that, after taking bath at Manikarnika Ghat, he resolved to worship Shiva with one thousand golden lotuses. For the purpose of taking the test of Vishnu, Shiva reduced one of those golden lotuses. Then to fulfill that lotus, Vishnu thought of offering his Nayan Kamal to Shiva. Shiva appeared as soon as Vishnu was ready to pay his nayan. He told Vishnu that I have no devotee like you. Then Shiv ji said that from today the Chaturdashi of Kartik month will be known as Vaikuntha Chaturdashi. Pleased with the devotion of Vishnu, Shiva gave him the Sudarshan Chakra.
On the day of Baikuntha Chaturdashi, Lord Vishnu is decked up by wearing Pitambara, crown etc. Incense-lamps, sandalwood and flowers are offered. On this day reciting Srimad Bhagavad Gita, Vishnushastranama and Sri Sukta gives all kinds of enjoyment. On this day Lord Shiva is anointed with panchamrit and sandalwood, ashtagandha is applied. Naveed of sweet dessert is applied with flowers of vine, dhatura, figure.
Importance of Baikunth Chaudas importance of baikunth chaturdas
According to mythology, Narada ji once approached humans to ask God Vishnu the path of salvation. On the asking of Narada ji, Vishnu ji says that those who worship me and Shiva with devotion and devotion to Chaturdashi of Kartik Shukla Paksha, the doors of Baikunth are opened for them. On the day of Baikuntha Chaturdashi, retire from the bath and follow the fast. Worship Lord Shri Hari Vishnu with 108 lotus flowers and worship Shiva. Put 14 lamps in a clean river or pond in the evening on the day of Chaturdashi and flow it in water.
Shiva gave Sudarshan Chakra Sudarshan Chakra
According to classical belief, once Vishnu worships Lord Shiva in Kashi, he resolves to offer a thousand golden lotuses to him. When the ritual time comes, Shiva lowers a golden flower to take the test. When a flower falls short, Vishnu removes one eye and offers it to Shiva. Lord Shiva is pleased with his devotion and gives him the names Kamal Nayan and Pundarikaksha and offers the Sudarshan Chakra to Lord Vishnu like the radiance of the Koti Suns.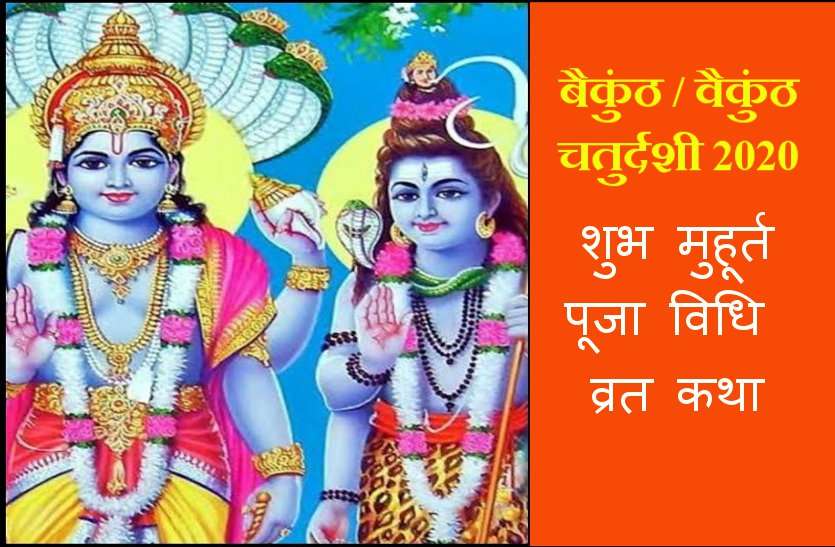 Harihar meeting happens
According to mythological beliefs, from four months Devshayani Ekadashi to Dev Prabodhini Ekadashi, Lord Vishnu goes to sleep by handing over the charge of the earth to Shiva. During this time only Lord Shiva handles the earth and the people of the earth. After this, Lord Vishnu wakes up on the day of Dev Prabodhini Ekadashi and on the day of Baikuntha Chaturdashi, Shiva again assigns this assignment to Vishnu. On this occasion, Harihar meeting is done in many religious cities including Ujjain. The ride of Lord Mahakal in Ujjain is taken with great pomp and taken to the Gopal temple. Here both of them exchange each other's favorite items. This is the only day of the year when the flowers and garlands of the figure to be offered to Mahakal are offered to Vishnu Avatar Gopal ji, while Mahakal is also offered Basil, the beloved of Lord Vishnu.
Baikunth Chaturdashi 2020: Shubh Muhurat
: Nishithkal Midnight from 11.42 am to 12.37 pm
Duration: 55 minutes
: Chaturdashi Tithi starts – 10.28 am on November 28
: Chaturdashi date complete – 29 November till 12.47 pm
Law of fasting-vrath vidhi
After bathing in the morning of Vaikuntha Chaturdashi, wear a clean cloth. Resolve the fast before God and fast for the whole day. In the night, worship Lord Vishnu with lotus flowers. After that, worship Lord Shiva with law. After getting up in the morning on the second day, worshiping Lord Shiva and providing food to the needy and observe the fast.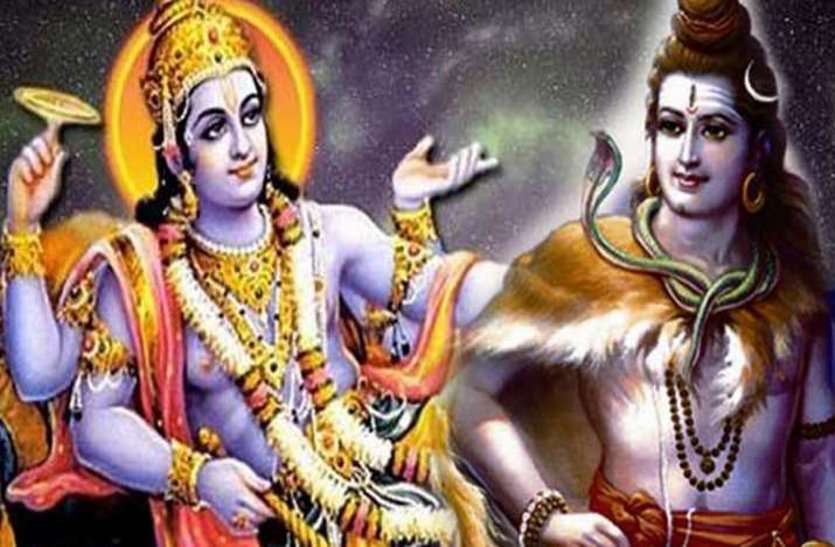 Major mythology of Baikuntha Chaturdashi: Vaikuntha Chaturdashi Katha In Hindi
These 3 stories are mainly found in the Puranas of Baikuntha Chaturdashi, about which it is said that by reading them on the day of Vaikuntha Chaturdashi, 14000 sins of deeds are removed.
Story 1
According to the mythology of Vaikuntha Chaturdashi, once upon a time, Narada ji roams the earth and reaches Baikuntha Dham. Lord Vishnu places him respectfully and is pleased to ask the reason for his arrival.
Narada ji says – Lord! You have named your name Kripidhanan. With this, only those who are dear devotees get their level. Those who are normal male and female are left deprived. Therefore, tell me some simple path through which even ordinary devotees can get rid of your devotion.
Hearing this, Vishnu said – O Narada! Listen to me, on the Chaturdashi of Kartik Shukla Paksha, those who will observe the male-female fast and worship me with reverence, devotion will open the doors of heaven.
After this, Vishnu calls Jai-Vijay and orders him to keep the doors of heaven open to Kartik Chaturdashi. Lord Vishnu says that on this day, every devotee will worship me with a little name, he will get Baikuntha Dham.
Story 2
Once according to mythology, Lord Vishnu Devadhidev came to Kashi to worship Mahadev. Taking a bath at Manikarnika Ghat there, he resolved to worship Lord Vishwanath with 1000 (one thousand) golden lotus flowers. When he started worshiping after Abhishek, Shivji reduced a lotus flower for the purpose of testing his devotion.
Lord Srihari had to offer 1000 lotus flowers to fulfill the worship. Seeing the lack of a flower, he thought that my eyes are also like lotus. I am called 'Kamal Nayan' and 'Pundarikaksha'. Considering this, Lord Vishnu appeared to offer his lotus like eyes.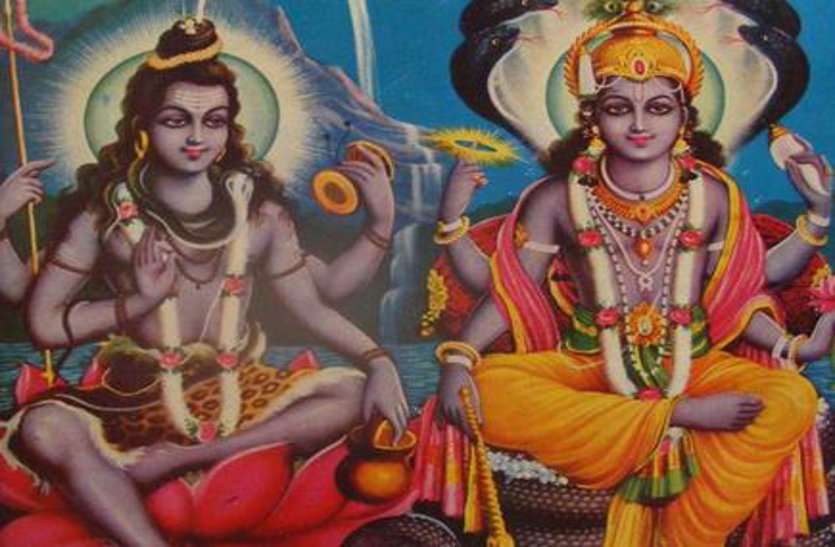 Pleased with this immense devotion of Vishnu, Devadhidev Mahadev appeared and said- 'O Vishnu! No one else is my devotee in the world like you. Today's Kartik Shukla Chaturdashi will now be called 'Baikuntha Chaturdashi' and on this day, the first person who will worship you fast, will receive the Baikuntha Lok.
Lord Shiva gave this Baikuntha Chaturdashi to Sudarshan Chakra, Vishnu ji, like the radiance of millions of suns. Shiva and Vishnu say that the gates of heaven will be open on this day. Any person living in the dead land will observe this fast, he will ensure his place in Baikuntha Dham.
Legend 3
There was a Brahmin named Dhaneshwar who did very bad things, he had many sins. One day he went for a bath in the Godavari river, that day was Vaikuntha Chaturdashi. Many devotees came to the Godavari ghat on that day to offer prayers, Dhaneshwar was also with them in that crowd. Thus, due to the touch of those devotees, Dhaneshwar also got virtue. When he died, he took him to Yamraj and sent him to hell.
Then Lord Vishnu said that it is very sinful but it took Godavari bath on the day of Vaikuntha Chaturdashi and all its sins were destroyed due to the virtue of the devotees, hence it will get Vaikunth Dham. Thus Dhaneshwar received Vaikuntha Dham.
Astrology
Baikunth Chaturdashi 2019
Lord Shiv
Lord Shiva
Lord Vishnu
puja
puja path
Religion
shubh muhurat
Special Puja path
spirituality
Sudarshan chakra
vaikunth chaturdashi
Vaikunth Chaturdashi Vrat
Ujjain
Lotus flower
Astrology
Vishnu

[ad_1]
[ad_2]