The second most visited religious pilgrimage site after Tirumala Venkateswara Temple …
This year Navaratri festival is going to start about a month late due to Purushottam month i.e. more month after Pitrupaksha. This year, this festival will start from October 17. In such a situation, today we are going to tell you some special things related to Vaishno Devi cave temple. Some of which you may not be aware of, there are some things which you would never have paid attention to.
Actually, the world famous and ancient temple of Goddess Maa Vaishno Devi is located on the hills near Katra Nagar in Jammu region of the Indian state of Jammu and Kashmir. These hills are called Trikuta hills. It is here that the temple of Matarani is situated at an altitude of about 5,200 feet. It is the second most visited religious pilgrimage site in India after Tirumala Venkateswara Temple.
Mata Vaishno Devi Temple: Understand like this …
Actually, in a cave situated on the hills of Trikuta, there are three self-proclaimed idols of Goddess Vaishno Devi. These include Goddess Kali (right), mother Saraswati (left) and mother Lakshmi (middle) as Pindi. The combined form of these three bodies is called Vaishno Devi Mata. At the same time, this place is called Mother's Building. The length of the sacred cave is 98 feet. A large platform is also built in this cave. The mother's seat is on this platform where Goddess Trikuta resides with her mother.
While the building is the place where Mata killed Bhairavnath. Bhairo's body is present in front of the ancient cave and it is said that his head flew to Bhairon Valley three kilometers away while the body remained here. The place where the head fell, today the place is known as 'Temple of Bhaironath'. It is from Katra itself that the foot-climb of Vaishno Devi begins which is about 13 kilometers up to the building and 14.5 kilometers to the Bhairo temple.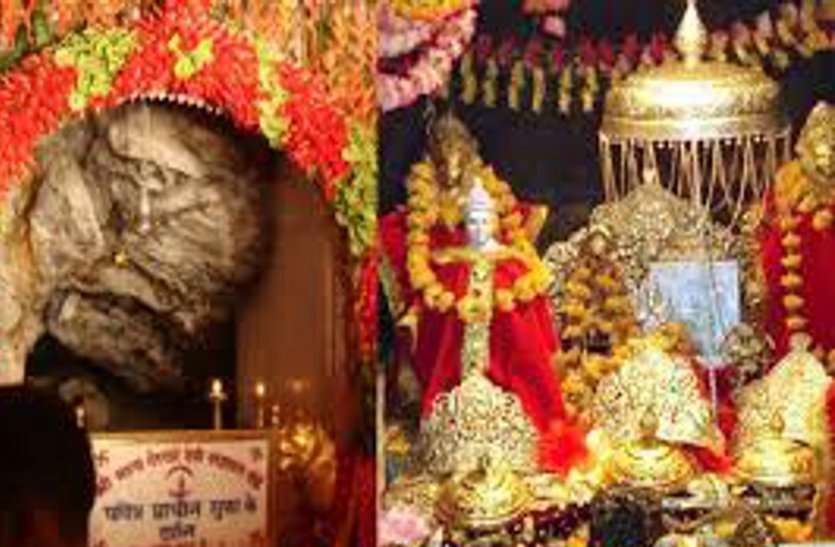 Vaishno Devi Cave Temple: Mythology
There are many types of stories in relation to the temple. But according to the main story that is told, once upon seeing the beautiful girl on the hill of Trikuta, Bhairavnath ran to catch her. Then the girl changed into air and flew towards Trikuta mountain. Bhairavnath also ran after him. It is believed that Pawanputra reached Hanuman there to protect his mother. When Hanuman ji felt thirsty, at his insistence, Mata pulled an arrow from the bow with arrows on the mountain and washed her hair in that water. Then Mata meditated for nine months by entering a cave there. During this, Hanumanji kept guard.
Then Bhairav ​​Nath also came there. During that time a monk told Bhairavnath that the one whom you are considering as a girl is Adishakti Jagadamba, so give up the pursuit of that superpower. Bhairavnath did not listen to the monk. Mata then made her way out of the other side of the cave. This cave is still famous as Ardhkumari or Adikumari or Garbhajoon. The step mother of the first mother of Ardhkumari is also Paduka. This is the place where Mata turned around and saw Bhairavnath.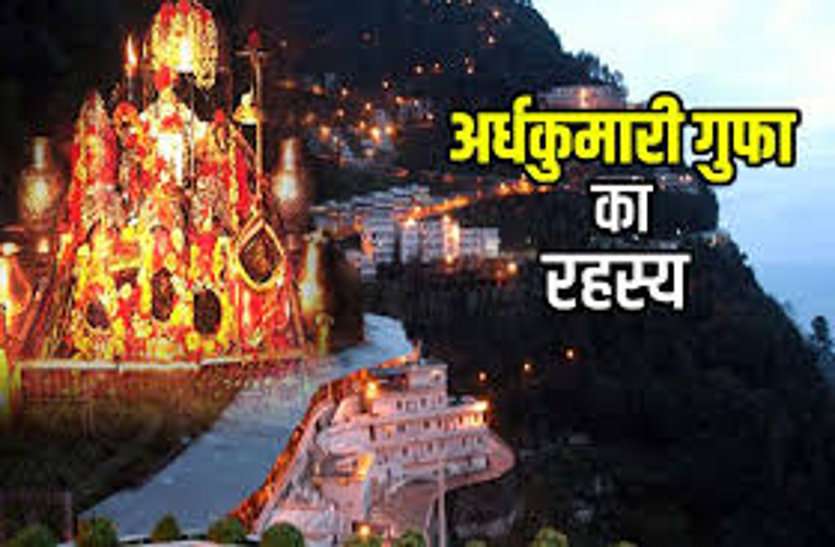 Finally, out of the cave, the girl assumed the form of a goddess and asked Bhairavnath to return and went into the cave again, but Bhairavanath did not believe and entered the cave. Seeing this, Hanumanji, guarding the cave of Mata, challenged him to battle and both fought. Seeing no end of the war, Mata Vaishnavi killed Bhairavnath by taking the form of Mahakali.
It is said that after his slaughter, Bhairavnath repented of his mistake and begged for forgiveness from his mother. Mata Vaishno Devi knew that Bhairava's main intention behind attacking her was to attain salvation. Then he not only liberated Bhairava from the cycle of rebirth, but gave him a boon, saying that my darshan will not be considered complete unless a devotee, after me, will see you.
Story of Vaishno Devi Cave Temple:
This story is also associated with Shridhar, a devotee of Vaishno Devi. More than 700 years ago, Sridhar, the supreme devotee of Maa Vaishnavi, lived in Hansali village, some distance from Katra. He was childless and poor, but he thought that one day he would keep the stock of mother.
One day Sridhar invited all the nearby villagers to receive the prasad, and on the Bhandare day, Sridhar requested everyone to go to the house in turn, so that they would get the cooking material and he prepared the food to the guests on the Bhandar day. Can feed. The number of people who helped her was not enough as the guests were very few.
He was thinking how Bhandara would be with so little stuff. The day before Bhandare, Sridhar was unable to sleep even for a moment, wondering how he would be able to provide food to the guests. He was surrounded by problems till morning and now he was looking forward to his mother. He sat outside his hut for worship, by noon the guests had started coming, seeing Sridhar worshiping, he sat where the place looked. All the people sat easily in the small hut of Sridhar.
Sridhar opened his eyes and thought how to feed them all, then he saw a little girl coming out of the hut named Vaishnavi. She came by the grace of God, she was serving delicious food to all, Bhandara was very well endowed. After Bhandare, Sridhar was anxious to learn about the little girl Vaishnavi, but Vaishnavi disappeared and no one saw her after that. After many days, Sridhar had a dream of that little girl, it became clear that she was mother Vaishno Devi. The girl, who came in the form of Mata Rani, told him about the cave and blessed her with a boon of four sons. Sridhar was happy once again and set out in search of the mother's cave and after a few days he found the cave, since then devotees started going there to see the mother.
cave temple
Durga Temple
Hanuman
hindu temple
Jammu
every
Katra-Vaishno Devi
landslide hits Vaishno Devi Bhawan
mata vaishno devi
navadurga
Navratra
Navratri
navratri special
vaishno devi
Vaishno Devi route
Vaishno Devi Shrine
Vaishno Devi temple
Vaishno devi yatra
area
Navadurga
Hindu temple

[ad_1]
[ad_2]