Fasting and festivals according to Hindu calendar
In the year 2020, due to Corona, where the country was locked in the world, the process of lockdown was seen to begin once again in the midst of the unlocking process started at the end of 2020. In such a situation, by the end of the year 2020, by 2021, the bug has started knocking.
But with this, on the one hand, the new strain of Corona itself has once again started creating an atmosphere of panic in the world. In such a situation, people remain skeptical about 2021 in the new hope of good in 2021.
At the same time, the new English year 2021 is going to start in the next few days, in such a way, according to the Hindu calendar, many big festivals are to come in 2021, while in this English year, the Hindu festival of Vikram Samvat 2078 will also begin.
At the end of 2020, people have started worrying about the festivals being celebrated this year, once again, for the changed form of Corona, that this time also the festival should not be seen without fanfare like the year 2020 . In fact, in this 2021, everyone wants to celebrate their festivals with great pomp.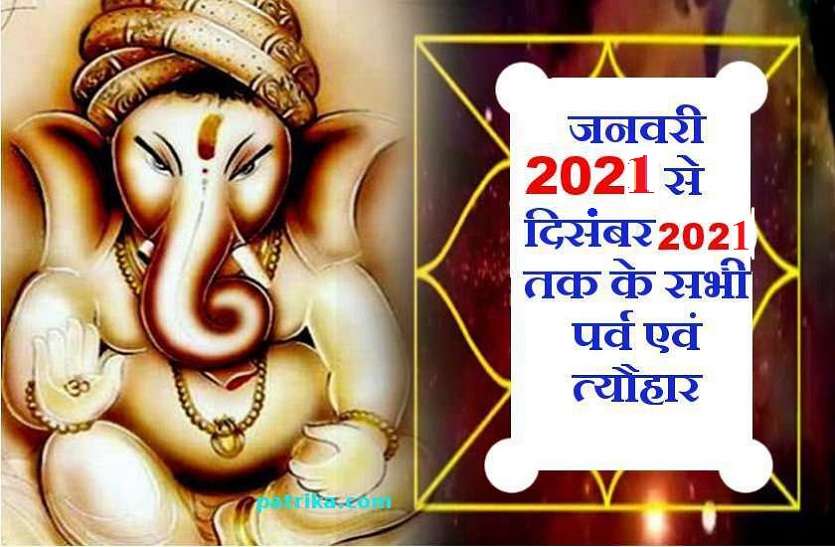 Let us know the festivals and festivals of 2021 …
January 2021: Festivals
02 Saturday: Sankashti Chaturthi
Saturday 09: Safala Ekadashi
10 Sunday: Pradosh Vrat (Krishna)
11 Monday: Monthly Shivaratri
13 Wednesday: Paush Amavasya
14 Thursday: Pongal, Uttarayan, Makar Sankranti
24 Sunday: Paush Putrada Ekadashi
26 Tuesday: Pradosh Vrat (Shukla)
Thursday 28: Fasting on Poush Purni
31 Sunday: Sankashti Chaturthi
February 2021: Festivals
07 Sunday: Shatila Ekadashi
09 Tuesday: Pradosh Vrat (Krishna)
10 Wednesday: Monthly Shivaratri
11 Thursday: Magh Amavasya
12 Friday: Kumbh Sankranti
16 Tuesday: Basant Panchami, Saraswati Puja
23 Tuesday: Jaya Ekadashi
24 Wednesday: Pradosh Vrat (Shukla)
Saturday 27: Fasting on Magh Purni
March 2021: Festivals
02 Tuesday: Sankashti Chaturthi
09 Tuesday: Vijaya Ekadashi
10 Wednesday: Pradosh Vrat (Krishna)
11 Thursday: Mahashivratri, monthly Shivaratri
Saturday 13: Falgun Amavasya
14 Sunday: Pisces Solstice
25 Thursday: Amalaki Ekadashi
26 Friday: Pradosh Vrat (Shukla)
Sunday 28: Holika Dahan, fasting on Falgun Purnima
29 Monday: Holi
31 Wednesday: Sankashti Chaturthi
April 2021: Festivals
07 Wednesday: Papamochini Ekadashi
09 Friday: Pradosh Vrat (Krishna)
10 Saturday: Monthly Shivaratri
12 Monday: Chaitra Amavasya
13 Tuesday: Chaitra Navratri, Ugadi, Ghatsthapana, Gudi Padwa
14 Wednesday: Chetty Chand, Aries Sankranti
21 Wednesday: Ram Navami
Thursday 22: Chaitra Navratri Parna
23 Friday: Kamada Ekadashi
24 Saturday: Pradosh Vrat (Shukla)
27 Tuesday: Fasting on Hanuman Jayanti, Chaitra Purni
30 Friday: Sankashti Chaturthi
May 2021: Festivals
07 Friday: Varuthini Ekadashi
08 Saturday: Pradosh Vrat (Krishna)
09 Sunday: Monthly Shivaratri
11 Tuesday: Vaishakh Amavasya
14 Friday: Akshaya Tritiya, Vrisha Sankranti
23 Sunday: Mohini Ekadashi
24 Monday: Pradosh Vrat (Shukla)
26 Wednesday: Fasting on the full moon of Vaishakh
29 Saturday: Sankashti Chaturthi
June 2021: Festivals
06 Sunday: Apara Ekadashi
07 Monday: Pradosh Vrat (Krishna)
08 Tuesday: Monthly Shivaratri
10 Thursday: Jyesht Amavasya
15 Tuesday: Gemini Solstice
21 Monday: Nirjala Ekadashi
22 Tuesday: Pradosh Vrat (Shukla)
24 Thursday: Jyestha Purnima fast
27 Sunday: Sankashti Chaturthi
July 2021: Festivals
05 Monday: Yogini Ekadashi
07 Wednesday: Pradosh Vrat (Krishna)
08 Thursday: Monthly Shivaratri
Friday 09: Ashadh Amavasya
12 Monday: Jagannath Rath Yatra
16 Friday: Cancer Solstice
20 Tuesday: Devshayani Ekadashi, Ashadhi Ekadashi
21 Wednesday: Pradosh Vrat (Shukla)
24 Saturday: Guru-Purnima, Ashada Purnima fast
27 Tuesday: Sankashti Chaturthi
August 2021: Festivals
04 Wednesday: Kamika Ekadashi
05 Thursday: Pradosh Vrat (Krishna)
06 Friday: Monthly Shivaratri
08 Sunday: Shravan Amavasya
Wednesday 11: Greenery Teej
Friday 13: Nag Panchami
17 Tuesday: Singh Sankranti
18 Wednesday: Shravan Putrada Ekadashi
20 Friday: Pradosh Vrat (Shukla)
21 Saturday: Onam / Thiruvonam
22 Sunday: Raksha Bandhan, Shravan Poornima fast
25 Wednesday: Sankashti Chaturthi, Kajri Teej
30 Monday: Janmashtami
September 2021: Festivals
03 Friday: Aja Ekadashi
04 Saturday: Pradosh Vrat (Krishna)
05 Sunday: Monthly Shivaratri
07 Tuesday: Bhadrapada Amavasya
Thursday 09: Hartalika Teej
Friday 10: Ganesh Chaturthi
17 Friday: Parlatini Ekadashi, Kanya Sankranti
18 Saturday: Pradosh Vrat (Shukla)
19 Sunday: Anant Chaturdashi
20 Monday: Bhadrapada Poornima fast
24 Friday: Sankashti Chaturthi
October 2021: Festivals
02 Saturday: Indira Ekadashi
04 Monday: Monthly Shivaratri, Pradosh Vrat (Krishna)
06 Wednesday: Ashwin Amavasya
07 Thursday: Sharad Navratri, Ghatsthapana
11 Monday: Kalparambh
Tuesday 12: Navratrika Puja
13 Wednesday: Durga Maha Ashtami Puja
14 Thursday: Durga Maha Navami Puja
15 Friday: Durga Visarjan, Dussehra, Sharad Navratri Parana
16 Saturday: Papankusha Ekadashi
17 Sunday: Pradosh Vrat (Shukla), Libra Sankranti
20 Wednesday: Ashwin Poornima fast
24 Sunday: Sankashti Chaturthi, Karva Chauth
November 2021: Festivals
01 Monday: Rama Ekadashi
02 Tuesday: Dhanteras, Pradosh Vrat (Krishna)
03 Wednesday: Monthly Shivaratri
04 Thursday: Diwali, Karthik Amavasya, Narak Chaturdashi
05 Friday: Govardhan Puja
06 Saturday: Bhai Dooj
10 Wednesday: Chhath Puja
14 Sunday: Devuthan Ekadashi
16 Tuesday: Pradosh Vrat (Shukla), Scorpio Solstice
Friday 19: Karthik Poornima fast
23 Tuesday: Sankashti Chaturthi
30 Tuesday: Utpana Ekadashi
December 2021: Festivals
02 Thursday: Monthly Shivaratri, Pradosh Vrat (Krishna)
04 Saturday: Margashirsha Amavasya
14 Tuesday: Mokshada Ekadashi
16 Thursday: Pradosh Vrat (Shukla), Dhanu Sankranti
Sunday 19: Margashirsha Poornima fast
22 Wednesday: Sankashti Chaturthi
30 Thursday: Safala Ekadashi
31 Friday: Pradosh Vrat (Krishna)
Christmas
Christmas festival
hindu calander
hindu calendar month
Hindu festival
Hindu festival committee
hindu festival news
hindu festivals
hindu vrat tyohar
indian calender
indian calender new year day
Indian festivals
lifestyle
Lifestyle and Relationship
Mokshada Ekadashi
mokshada ekadashi vrat katha
new year according to indian calender
puja path
Raksha Bandhan
religion news
spiritual
spirituality
Surya grahan
Surya Grahan News
the Hindu festival
the Hindu festival committee Kolar
Vrat tyohar

[ad_1]
[ad_2]