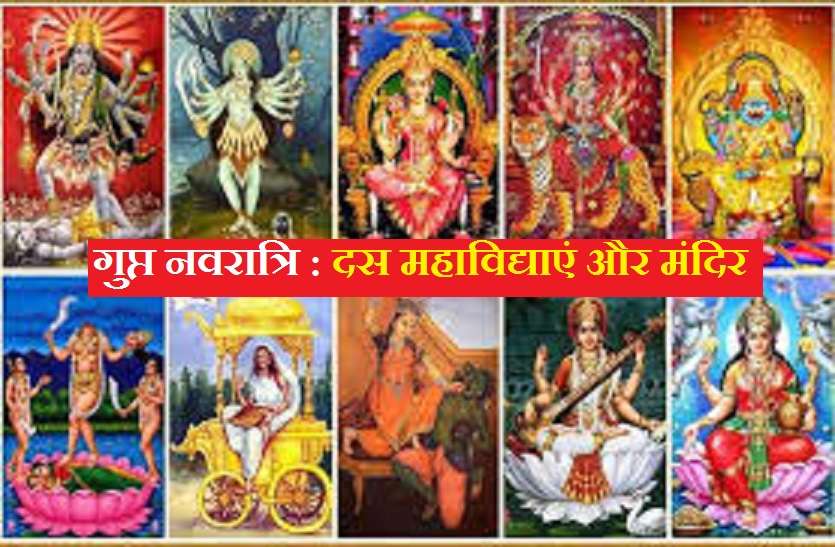 Magha Gupta Navratri has started today i.e. from 12 February 2021. Which will remain till 21 February 2021. Gupta Navaratri is different from Chaitra and Shardiya Navaratri in many ways. By the way, these Navratras are also for the worship of Shakti. But there are some differences due to their privacy and the different nature of the Mother Goddess. Also, they are mainly done for Tantric action. In such a situation, today we are telling you about the Goddesses of Gupta Navaratri and their temples.
Goddess Mothers of Gupta Navratri are as follows…
Mother Kalike, Mother Tara Devi, Lalita Maa / Tripura Sundari, Mother Bhuvaneshwari Devi, Mother Chitramasta, Mother Tripur Bhairavi, Mother Baglamukhi, Mother Mantagi, Mother Dhumravati and Mother Kalma Devi.
According to the belief, the Mother Goddess was born as Sati and Parvati. In the form of Sati, he told his 10 births through 10 Mahavidyas.
Temples and Forms of Goddess Mothers-
1. Mother Kalike – It is believed that the mother took this black form for the destruction of the demons. They are worshiped to remove all the troubles and sorrows of life.
Maa Kalika is worshiped especially in Bengal and Assam. Maa Kali is considered to be one of the ten Mahavidyas of Goddess Durga. Maa Kali has four forms – Dakshina Kali, Shamshan Kali, Mother Kali and Mahakali.
Mata Kali Temples –
– Dakshineswar Kali Temple, (West Bengal):
Kalika of Aaradhya Devi Maa Kalika of Ramakrishna Paramahamsa is a world famous temple in Kolkata. At this place, four fingers of right leg of Sati Deh fell. Hence it is included in the 52 Shakti Peethas of Sati.
The temple was built at this place by Queen Rasmani of Jan Bazar in 1847. The construction work of this temple spread over 25 acres was completed in 1855. This entire area, located near the Vivekananda Bridge in the north of Kolkata, is called Kalighat.
– Maa Garh Kalika, Ujjain (Madhya Pradesh):
There is an ancient temple of Kalika Mata at Kalighat in Ujjain, which is known as Garh Kalika. Due to Maa Harsiddhi Shaktipeeth in Ujjain region, the importance of this area increases. It is mentioned in the Puranas that on the Bhairav ​​mountain, located near the banks of river Shishra in Ujjain, the mantle of Mother Bhagwati Sati fell.
No one knows about the antiquity of this miraculous temple of Kalika, the goddess of the tantrikas, yet it is believed to have been established during the Mahabharata period, but the statue dates back to the era of Satyuga. Later, it is mentioned that the ancient temple was renovated by Emperor Harshavardhana. It was rebuilt by the Maharaja of Gwalior during the reign. Kaljayi poet Kalidas Garh was a worshiper of Kalika Devi.
– Mahakali Shaktipeeth, Pavagadh (Gujarat):
The Shaktipeeth of Maa Kalika, situated on the high hill of Pavagadh in Gujarat, is considered to be the most vigorous. Kali Maa located here is called Mahakali. This famous temple of Kalika Mata is one of the Shaktipeeths of Mother. It is believed that the fingers of the right foot of Maa Parvati fell on the Pavagadh mountain.
The temple is located near the ancient capital of Gujarat, Champaranya, about 50 km from Vadodara city. The Pavagadh temple is situated on a high hilltop. After descending from the ropeway, you have to climb about 250 steps, then you will reach the main gate of the temple.
– Kalika Mandir, Kanda Market – Kanda District Bageshwar (Uttarakhand):
This Kalika temple was founded by Adi Shankaracharya in the tenth century. Jagadguru Shankaracharya, who arrived here on a Kailash Yatra, established the Deity of Maa Kali at a root of the tree to protect the people. A temple was built at this place in 1947.
According to popular belief, there was a period of terror in this region. He used to take a sacrifice every year. The invisible period, whatever it was named, died instantly. People were upset. Distressed people narrated their objections to Shankaracharya. Jagadguru made nine iron cauldrons by the local blacksmiths. According to folk beliefs, he suppressed the invisible period under seven kadhas. A huge rock was placed over it. He established Maa Kali at the root of a tree here. Since then, the fear of Kaal is over.
– Bhimakali Temple, Shimla (Himachal):
The Bhimakali Temple is located on the banks of the Beas River at Sarahan, about 180 km from Shimla. It is believed that Goddess Sati's ears fell here. Hence it is known as Shaktipeeth. Here Goddess killed Bhimas as Bhima and hence Goddess Bhima is called. Goddess Kali is worshiped here. It is said that Lord Krishna killed Vayasura here.
Apart from this, the ancient temples of Kalika, Mahamaya in North Goa, Goa, Belgaum in Karnataka, Chandigarh in Punjab and Kashmir.
MUST READ : Once every night, Mata used to apply Kali to this tree, voice to Lord Vishnu and Shiva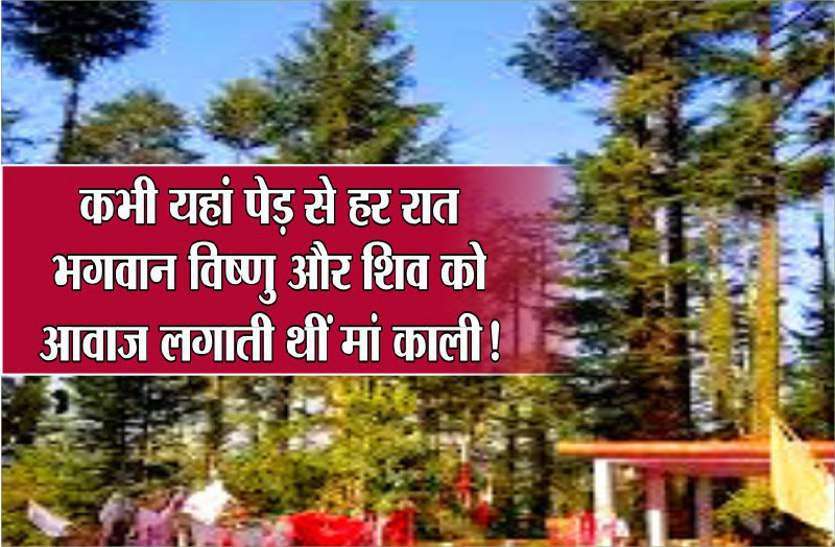 2. Maa Tara Devi Temple – Tara, the goddess of beauty and beauty, as well as economic advancement and enjoyment. Considered to be the one who gives salvation.
Temple – The temple of Maa Tara located on the peak adjacent to Shimla is the one to fulfill every desire. Built around 11 km from Shimla city, this temple is quite old. Every year millions of people reach here to take blessings of the mother.
Mother Tara is said to have been brought to Shimla from West Bengal some 250 years ago. The idol of mother Tara, a ruler of the Sena period, brought Shimla from Bengal.
As far as the construction of the temple is concerned, King Bhupendra Sen built the temple of the mother. It is believed that once Bhupendra Sen went hunting in the dense forests of Taradevi.
During this time, he saw Mother Tara and Lord Hanuman. Mother Tara expressed her wish that she wants to settle in this place so that devotees can come here and see her easily. After this, the king started building a temple here.
3. Lalita Maa / Tripura Sundari: – Sri Lalitha Devi is also known as Tripura Sundari. Lalita is sitting on a lotus wearing a red robe. They are worshiped for prosperity and fame.
Temple – Lalitha Devi Temple located in Naimisharanya of Sitapur is called the same temple where the heart of Mother Sati was dropped. Explain that the Naimisharanya Tirtha is considered to be the taphobhoomi of sages. There is also a cycle pilgrimage at this place. According to beliefs, the cycle of Lord Vishnu fell in this Chakra Tirtha. According to mythology, all the sins of a person bathing in the Chakra Tirtha are washed away.
Nemisharanya is the famous abode of Goddess Lalita Devi. One of the special things of this temple is that whatever mother's devotee comes here with true devotion in her mind, she never returns empty handed, mother fulfills all her wishes.
MUST READ : A door that has been crossed, it reaches straight to heaven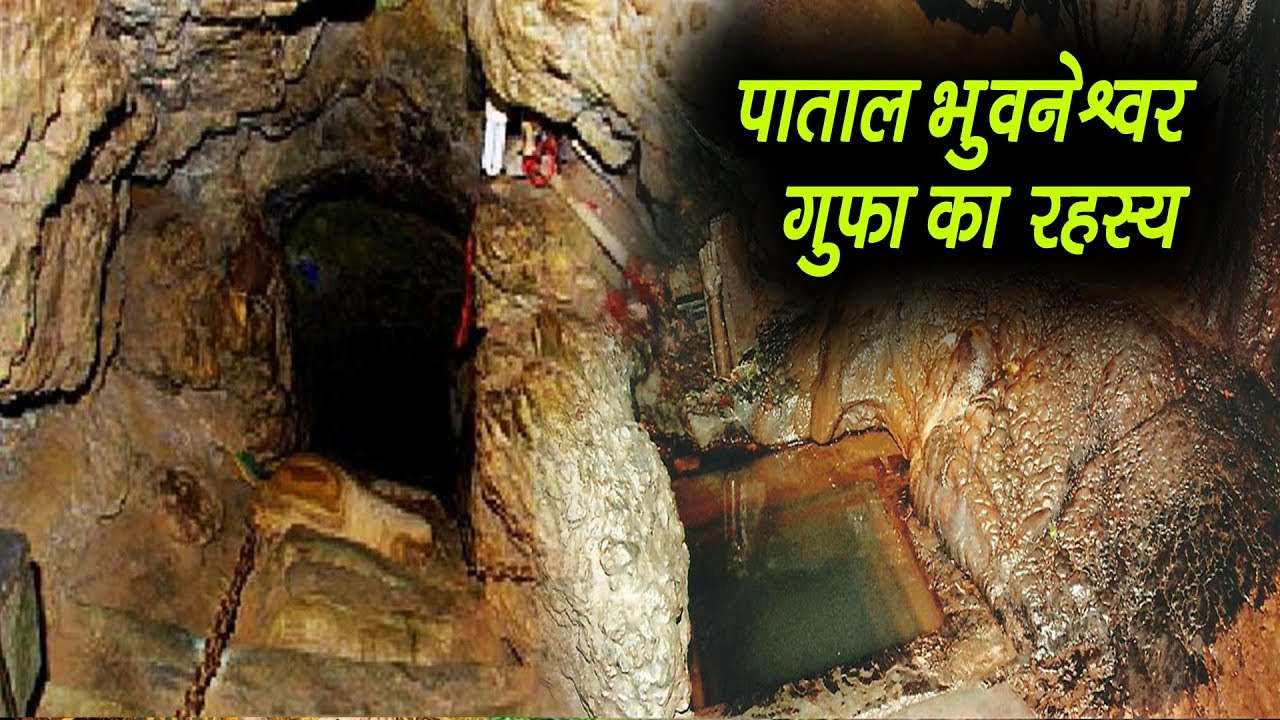 4. Mother Bhuvaneshwari Devi – Mother Bhuvaneshwari is the mistress of Aishwarya. They are considered to be special powers in worshiping deities. They are supposed to give all the pleasures and accomplishments.
Temple – The famous Bhuvaneshwari temple is situated on the Neelachal hill in Guwahati. It was built in honor of Bhuvaneshwari Devi. According to Hinduism, Bhuvaneshwari Devi is the fourth goddess out of 10 Mahavidya Devi. It is said that this temple was built between 7th and 9th century.
The structure of this temple made of stones is very similar to the Kamakhya temple and from here you can enjoy the serene surroundings. Every day around 100 tourists visit here. During the Ambubachi and Manasha Puja, this temple attracts a large number of tourists and devotees from all over the world.
– Mother Bhuvaneshwari Siddhapeet Sanguda, Uttarakhand: To reach the Maa Bhuvaneshwari Siddhpeeth at Bilkhet, Sanguda, Pauri Garhwal, one has to reach Satpuli, a small town about 54 km from Kotdwar and 52 km from Pauri on National Highway 119. This mother Bhuvaneshwari Siddhpeeth is situated at a place called Sanguda, full of natural beauty and grandeur, about 8 kilometers from Satpuli to Banghat, Beaschatty, Devprayag Road.
5. Mata Chinnamasta / Picture Masta: Worshiping Mother Chinnamastika brings material splendor, victory in debate, victory over enemies, hypnotic power as well as supernatural wealth.
Temple – Chinnamastika Devi's temple is located in Rajarappa, about 80 kilometers from Ranchi, the capital of Jharkhand. This temple is quite famous as Shaktipeeth. Maa Kamakhya Temple located in Assam is called the world's largest Shaktipeeth, while the world's second largest Shaktipeeth is the Chinnamastika Temple of Maa located in Rajarappa
6. Maa Tripur Bhairavi: Mother Tripura Bhairavi is the goddess of Tamoguna and Rajoguna. They are worshiped to calm special calamities and to find happiness.
Temple – The temple of Maa Tripur Bhairavi is situated in the narrow streets of the typical style of Varanasi. The heads of those passing by this temple bow down automatically before the mother. It is believed that all kinds of sorrows are removed by worshiping the mother Tripura Bhairavi. The mother has such great importance that the entire neighborhood around them is known as Tripur Bhairavi. Maa Tripur Bhairavi is ranked number 5 in 10 Mahavidya. It is said that the amazing statue of the mother is the land itself. His devotees get education easily.
7. Mata Baglamukhi: Goddess Bagalamukhi is the goddess to eliminate the enemy. They remove the fear of their devotees and destroy the enemies and their evil powers.
Temple – This three-faced temple of Trishakti Mata Baglamukhi in Madhya Pradesh is located on the banks of river Lakhundar in Shajapur Tehsil Nalkheda. This temple of Dwapar Yugin is very miraculous. Shaiva and Shakti Margi saints from all over the country come here for tantric rituals.
There are only three major historical temples of Maa Bagalamukhi in India which are in Datia (Madhya Pradesh), Kangra (Himachal) and Nalkheda district Shajapur (Madhya Pradesh) respectively. All three have their own different significance.
MUST READ : During the war with China, Goddess Maa came out of the battlefield with this Shakti Peetha to the battlefield
8. Maa Mantgi: Household happiness, destruction of enemies, luxury, immense wealth, speech accomplishment. Matangi Devi is practiced for awakening horoscopes, abhi siddhis, Kaal gyan, isht darshan etc.
Temple – Matangi Modheswari Temple in Modhera, Gujarat is dedicated to Modheshwari Mata and is near the world famous and heritage Modhera Sun Temple. Goddess Mod is the principal goddess of the community.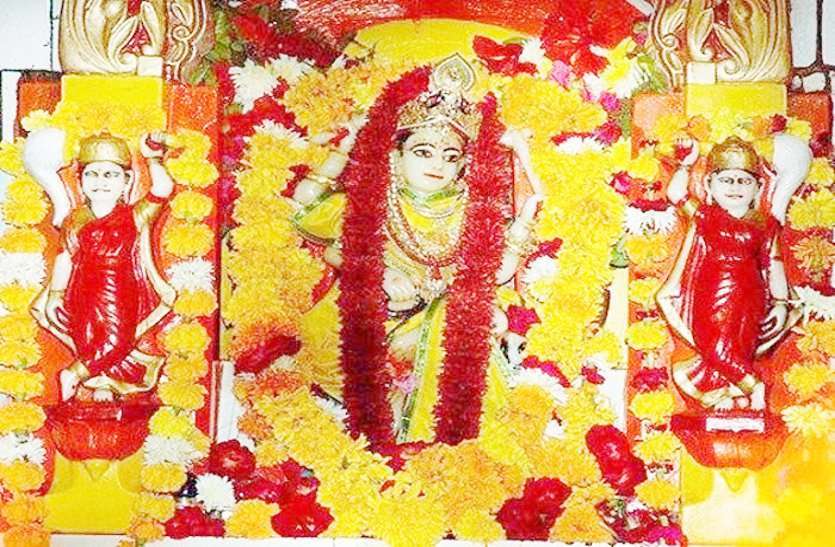 9. Mother Smoky: The form of Dhumavati Devi is very somber and fierce. In order to eradicate poverty, tantra mantra, witchcraft, evil eye, mother Dhoomvati is practiced for liberation from all kinds of fear.
Temple – This temple of Maa Dhumavati temple is located in the premises of the famous Shaktipeeth Pitambara Peeth in Datia district of Madhya Pradesh. The belief of this temple is that there is no empty bag from here. Mother India is the only temple of Dhumavati, no call is unheard of here. Be it Raja or Ranka, mothers shower the same grace on everyone. At the same time, the mother Dhumwati is a white dress Dharani and her vehicle is considered a crow. Maa Dhumavati was incarnated to destroy the sinners. Due to the smoke rising from the body, he got his name Dhumavati. These are believed to be the core strengths of Durvasa. The most special thing about this temple is that for the devotees, the temple of Dhumavati opens for 2 hours on Saturday and evening, and the devotees get the privilege of seeing the mother Dhumavati only during the aarti.
10. Maa Kalma Devi: Mother Kamala is the presiding goddess of wealth, her worship is considered to be the best for those who desire material happiness.
At the same time, worshiping them removes poverty, distress, homelessness and turmoil forever and brings happiness and prosperity in life. While describing their form in the scriptures, it is told that the mother, four elephants of white color, take a gold urn in a trunk with a golden ring and take a bath like Suvarna. Mother Kamala is adorned wearing a lotus flower mounted on a lotus.
Temple – Kamala Devi Temple is also present in Bhuj Narayan Sarovar of Kutch and in Jamnagar Gujarat.
MUST READ : These are the main temples of Goddess Maa Lakshmi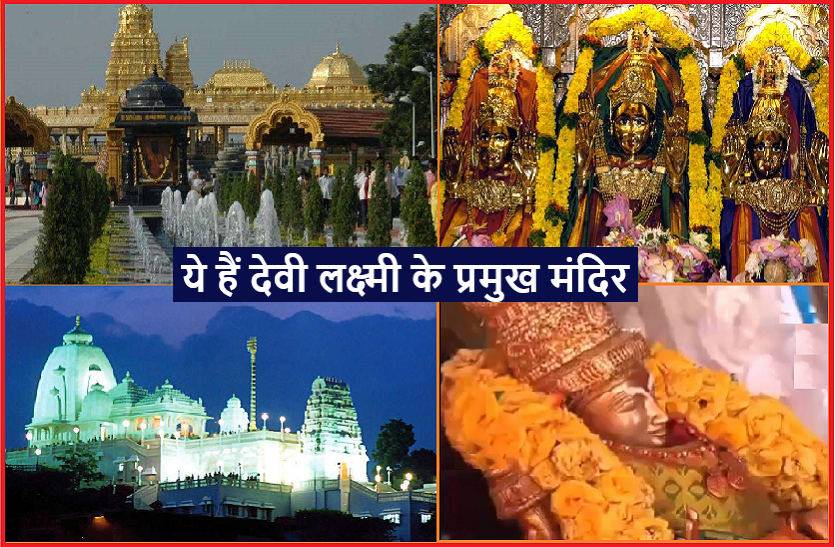 [ad_1]
[ad_2]